Three Things BYU has to do in Order to Beat Hawaii
Hawaii is not the same team that BYU Football has faced the past two seasons.
We are less than one week away from BYU Football taking on Hawaii in the Hawaii Bowl. Despite beating the Rainbow Warriors two straight seasons, including once with now transferring fourth string quarterback Joe Critchlow in 2018, the Cougars are absolutely in no way expected to win this football game by a big margin. In fact, this game should be a close game when the fourth quarter starts.
This season has been a roller coaster for the Cougars which adds just another reason to not trust that this should be a "obvious win". If the team that showed up against Toledo, USF, Washington or SDSU shows up, expect a loss. If the team who beat Boise State and USC shows up, expect a blowout. In the games that BYU has lost, there have been very noticeable things missing particularly in the QB play and finishing drives. Here are three things that have to happen if BYU expects to win this game.
Zach Wilson Needs to Play Well
Zach Wilson has been just alright this season. He hasn't played particularly bad most of the season, but at the same time, his play has cost the team a few wins. Wilson has struggled against middle-tier teams this year (Tennessee, Toledo and SDSU) and that trend to needs to end against another middle tiered Hawaii team. BYU doesn't need Wilson to do what he did last year in the bowl game, they just need him to protect the ball and make good decisions.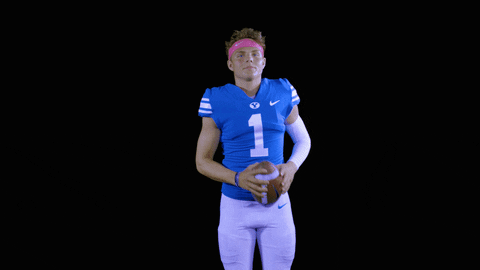 The minimum stat line that Wilson needs to be successful is 65% completion, 8.0 yards per attempt, and more touchdown passes than interceptions. If he can do that, I think that the Cougars will find themselves on the winning side.


The Defense Needs to Drop Eight... At Least to Start
Wait what? I hate it too, but Hawaii Quarterback Cole McDonald appears to be very much like Kedon Slovis from USC, either really good, or really struggling. Also, although he is a good runner, this season the Rainbow Warriors for the most part have limited his running opportunities. Outside of a game against New Mexico where he went off for 140 rushing yards, he is only averaging 21 yards rushing per game and 3.1 yards per carry.
Where McDonald is dangerous is when there is pressure. He rarely is sacked, (only brought down 15 times in 14 games) so why not instead of essentially taking two players out of most plays by rushing five, have those two drop back in coverage and force McDonald to make perfect throws. That is something that the Cougars did against Slovis and is led to three interceptions. I hate rushing three in most cases, but against a player like Cole McDonald, it may be the best route to go.
Finish Drives
This is the most obvious need for the Cougars. Hawaii is going to put up points. They are averaging 33.5 points per game which ranks 24th in the nation. It is very unlikely that kicking field goals (if they are even made) is going to be enough to win this game regardless of how many times the Cougars get into the red zone.
The Cougars need to score touchdowns on AT LEAST two thirds of the time of their redzone trips and they really can't afford to have any drives result in no points. They also need to keep the team on the field. With the high powered offense of Hawaii, the Cougars would be doing themselves a favor by having four or five minute drives and limiting the possessions for Cole McDonald.
If BYU is able to complete all three of these very doable tasks, the Cougars should have no problem giving all fans a great gift for Christmas.